pool cover works as a protection shield that prevents debris and dust from accumulating in the pool. However, removing the pool cover is a challenging task, especially after rain. That's when a pool cover comes in handy. It helps remove water from your pool cover effectively.
Wondering, what is the best pool cover pump to buy? Continue reading as we've reviewed the six best pool cover pumps of 2023.
6 Best Pool Cover Pumps
Do you know some pumps are submersible? It means they can collect debris and leaves from the cover even when submerged in water. Usually, pool cover pumps for winter are lightweight, compact, and easy to use. We understand that since there are so many options and models of pool cover pumps, it can be quite difficult to choose the best one. Here is the review of the best pool cover pumps of 2023.
WAPC250 Pool Cover Pump by Wayne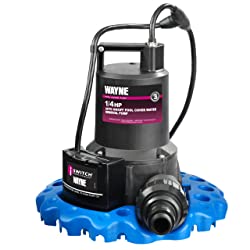 This pump comes with innovative technological features such as iSwitch. This helps turn the pump on and off by detecting the presence of water. Thus, you can plug this pump in and leave it as it will do the rest.
This pump comes with strainer base filters that minimize clogging and prevents the pool cover pump from tipping over. It automatically turns on when the water is at a level of 2 1/8 in. and turns off when the water is below 3/4 in.
Best Features
Energy-efficient, oil-free pump
iSwitch technology
Strainer base filters
APCP-1700 Automatic Swimming Pool Cover and Submersible Pump by Little Giant
This pool cover from Little Giant comes with a 1/3 horsepower motor, and it has low energy consumption. It's a stable and durable pool pump that comes with an integrated float switch that provides reliable automatic operation.
Besides, it has a built-in handle that makes it portable and easy to remove. Other than this, the removable intake screen makes it easy to clean, which can be quite a hassle with some pool covers.
The pump activates automatically in 2" of water. So, you don't have to stand there and operate it manually. Thus, you get amazing features for the money you pay.
Best Features
25 in. power cord
Built-in handle
Removable intake screen
Dredger Jr. 350 GPH Above Ground Pool Winter Cover Pump by Blue Wave – Auto On/Off
The efficiency of a pump depends on how many gallons of water it can pump per hour. If you're looking for a highly effective pump that can pump up to 350 gallons per hour, the Blue Wave Dredger Jr. is what you need.
It also comes along with a foam inlet filter and a stabilizing base platform. It can remove water to within 1/8 inch and includes a garden house adapter with a 25 feet power cord.
Best Features
Fully submersible
Pump up to 350 gallons per hour
25 feet power cord and garden hose adapter
Little Giant's 14942702 PCP550 Pool Cover Pump
This is a manual cover pump that helps remove standing water from pool covers. It comes with a removable intake screen to help in easy cleaning and maintenance.
This pool cover pump is also suitable for household water transfer applications. Plus, it has a 25 feet power cord and can pump up to 550 gallons per hour. The pump is easy to install and protects the pool cover from rain and snow accumulation.
Besides, the pump is available in both automatic and manual versions, and you can attach it to a garden hose for removing water from the covers.
Best Features
Pump up to 550 gallons per hour
Removable Intake screen
3/4 in. garden hose connection
Blue Torrent Swimming Pool Cover Pump (150 GPH Manual)
This is a highly efficient and innovative pool cover pump. It can pump up to up to 1250 gallons of water per hour. If you're looking for a powerful pump, this Blue Torrent pool cover pump is what you need.
You have three options to choose from, including the 150GPG, 350 GPH manual, and 350 GPH automatic. This means it can pump up 150 GPH in manual mode. Moreover, this model comes with a pool cover guard and discharge hose.
Best Features
Submersible design
1250 gallons per hour
Preassembled shipment
5-APCP Automatic Pool Cover Pump and Submersible Pump by Little Giant
This is an automatic pool cover pump that turns on and off automatically, depending on the water level. It turns on when the water level reaches 3 1/4" or above and switches off when the water level drops to almost 1 3/4".
You can plug the pump and let it do its job without having to check up on it. It's a submersible pump and can function in both automatic and manual modes according to the need. Moreover, it includes a garden hose adapter and a 25-foot power cord. You'll receive a two-year warranty with this pump.
Best Features
Two-year warranty
Submersible design
Removable Stabilizing plate
Frequently Asked Questions
What is a Pool Cover Pump?
Swimming pool covers for winter help prevent algae growth and debris accumulation in the pool. They also help maintain the water temperature. A pool cover pump helps remove water from the pool cover, making the process easy. Pool cover pumps are either manual or automatic; some pumps can work in both modes. Moreover, some pumps are submersible. 
How to use a pool cover pump?
Using a pool cover pump might seem complicated, but it actually isn't. All you have to do is prepare the pump by making sure it is clean. Also, ensure that the power cord doesn't have any abrasions. Once you evaluate your pool cover pump, you may go ahead and plug it.
Always use a safe outlet for the pool cover pump. Other than this, once plugged, the pump will start automatically, and you'll not have to keep an eye on it from time to time to ensure it works properly.
Some pumps don't start automatically; in that case, you can check the manufacturer manual, which will clearly indicate how to use it the right way.
How to Get Water off Pool Cover without a Pump?
There is a simple way you can remove the water from your pool cover without the help of a pump. All you have to do is follow the simple steps mentioned below.
1. Use a hose
2. Place one end of the hose on the cover and one end where you want the water to drain
3. Pull the water from the hose by sucking on the end where the water shall drain out. Do it repeatedly until the water drains out and don't swallow it.
4. Once the water starts flowing, it won't stop and will continue to flow until air enters it.
5. To keep the flow going, make sure to check both ends of the hose to see they are in place properly and that the hose on the pool cover remains under the surface of the water.
How to Pump Water off of Pool Cover?
Here are a few steps you need to follow in order to remove the water from the pool cover effectively.
1. Prepare your pump by ensuring it's clean and that the power cord is free of abrasions. Also, use a safe outlet (check before plugging it in)
2. Now place your pump on the pool cover, and make sure it submerges at the deepest area of the pool cover. This will allow your pump to remain submerged and remove more water.
3. Now you can go ahead and start your pump. Some pumps come with automatic on and off systems as well.
4. Now that your pump is doing its job, just ensure what the GPM is. If your pump has a higher GPM level, you will need to keep an eye on it, whereas if it has a lower GPM, you can come back later to check.
Final Thoughts
Pool cover pumps come with a manual or automatic system. While manual pumps are cheaper, automatic pumps are more efficient as they can detect the water's presence and turn on/off accordingly.
When looking for the best pool cover pump automatic, make sure to determine its efficiency. The higher the GPH, the more efficiently and quickly a pump can remove water. Thus, it must provide the best features for the money you pay.